May 2013
Posted May 31, 2013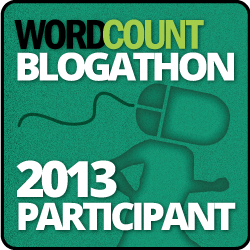 I've joined this 2013 Blogathon today. The idea is to blog every day for the entire month of June.
Posted May 19, 2013
There's not a whole lot to report for this past week. Between the local flooding a few weeks ago, and the daily rain showers, it's been difficult waiting for the wet thrown clay pieces to dry enough to trim. If the weather was hot enough to run the A/C, or cold enough to run the heat, that would help dry things up, too. But alas! We've been having perfect weather temperatures, which means open windows and doors to the damp air.

Posted May 6, 2013
Once upon a time there was a Chinese potter who had a terrible time firing his kiln. First it would get too smoky, then the fire would seem to die out. On and on the troubles went. And when the firing was over, there were many ruined pieces in his kiln.
But in the middle of the mess, the potter discovered a beautiful red vase in his kiln after firing. This beautiful red had never been seen before from a firing of pots, so the potter sent the vase to his emperor as a gift.