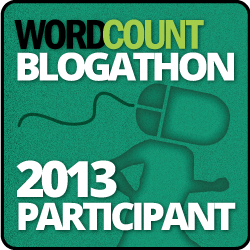 I've joined this 2013 Blogathon today. The idea is to blog every day for the entire month of June.
The idea of making time every single day to sit down and type some interesting and compelling reading is daunting, but I'll do my best. Joining this Blogathon has done one thing for me already. Knowing that I often come up blank when sitting down to a blank screen, I sat down and came up with an outline of topics to write about each day of the week.
This idea of a daily topic seems pretty brilliant to me! I do not know how I came up with this idea, but I'm pretty sure I'll always have something to write about now. I might still struggle for time in which to write. But since I know the topic, 'what to blog' should be fairly simple.
Here's the outline of my topics of the day for a week:
Monday's List. Monday is the day I sit down and write a list of the work I need to accomplish in the studio for the week. I never seem to get a fraction done on that list, but I just feel more focused with a list in hand. So I'll start sharing that list with you. Hopefully I won't become too embarrassed by all the unfinished items on the list.
Naked in front of a crowd potential = Very embarrassing since I'm so slow at making pottery and clay art.

Trendy Tuesday: Hot From The Kiln. On Tuesday I'll pick out one item that I've recently made. I'll talk about what gave me the inspiration for the item, the challenges I faced making it, and where I'd like to take the item in the future incarnations.
Naked in front of a crowd potential = Somewhat embarrassing since I'll be showing my flaws.

Clay Info Wednesday. This should be one of the easiest to write. I'll be writing on topics like: Where Clay comes from, How Clay is made, The firing cones clay, The types of clay, etc. How to work the clay. The process of throwing with clay. Glazing clay, etc. Bisque Fire, Glaze Fire. Low Fire/Mid Fire/ High Fire. Salt/ Soda Fire. Kilns.
Naked in front of a crowd potential = High if it is video day. I'm a total klutz. Low if I'm just writing. I'm no scientist, but I kind of understand most of the stuff I'll write about.

Admiration Thursday. This should be a piece of cake! I'll pick a potter/clay artist and will tell everyone what I like about them and/or their work.
Naked in front of a crowd potential = Very Low. I guess the worst that could happen is that I might mix up the wrong photo of a potter's work to the potter's name. I'll try not to do that!

Feedback Friday. The plan is to have something to say about what other bloggers have to say about my work. If everyone is ignoring me that week, or if I have something on my mind, I'll use it as my soap box day. Say some nice things about me, people, to avoid the soapy post!
Naked in front of a crowd potential = Average to High. Depends on what was said, and what I have to say.

Summary Saturday. I'll describe what happened this week in the studio (List of work marked off?), shows where my work is accepted, and most anything else that happened this week.
Naked in front of a crowd potential = Very High. I always have grand intentions, but my list of work seems to get very little marked off. Embarrassing!

Inspiration Sunday: Simply a pithy account of things for which I'm thankful for that week and possibly some items that inspire me.
Naked in front of a crowd potential = Extremely Low.
And there you have it. Starting tomorrow, June 1st, I'll begin blogging, hopefully on a daily basis. If you have a topic to suggest to me, I'm all ears. I'm sure I can fit it in somewhere into the mix.
Thanks for reading!
Now please go look at my pottery.